Honda Teases Newly Redesigned HR-V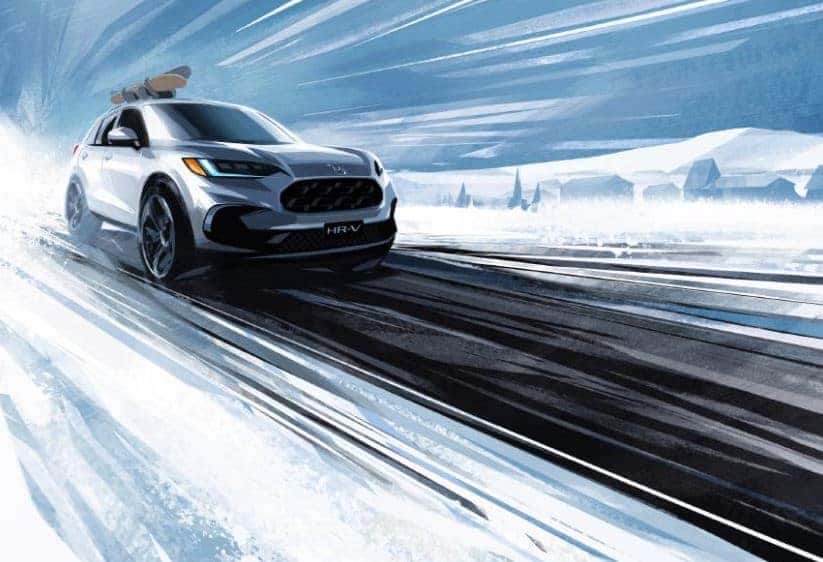 Photo Courtesy / Honda
Kicking of the new year, Honda has a sneak peak as to what their redesigned Honda HR-V will look like. With the Winter backdrop and ski and snowboard equipment on top of the crossover SUV, the 2023 HR-V sure fits the image of what your typical New England winter looks like.
The 2023 Honda HR-V, which is set to go on sale later this year, will replace the current Honda HR-V that has been around since 2014. Car and Driver speculates that the HR-V's powertrain will also mirror the latest Civic, with both the 158-hp naturally aspirated 2.0-liter and 180-hp turbo 1.5-liter inline-four engine options likely. Another possibility is that a hybrid will be an option.
Chris Bruce, a writer from Motor1, made the observation that the front end of the redesigned HR-V is more aggressive than the current model with a more prominent lower fascia. The grille at the center of the HR-V's face has an octagonal shape with an S-shaped mesh pattern. The headlights have a boxier shape than the current HR-V and the lamps are raised on sections of the front end, and the rest of the hood is lower.
One thing that we do know is that the 2023 Honda HR-V for the North American market is different than the version available in other countries. In a statement from early 2021, Honda said: "This new HR-V will be designed to meet the distinct needs of U.S. customers, and will differ from the Honda Vezel/HR-V that will be introduced in other regions."
Honda has already stated that this will be the Year of the Crossover – and by the looks of the redesigned HR-V, that clearly seems to be the case.