Vehicle Comparison: 2021 Honda Accord Vs 2021 Toyota Camry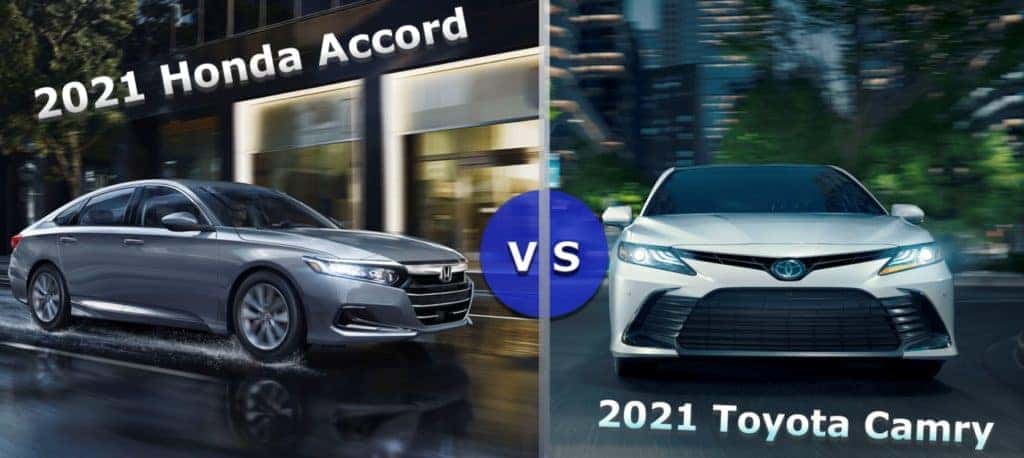 The 2021 Honda Accord and 2021 Toyota Camry are two of the top midsize sedans you can purchase right now, if you can purchase either new vehicle, thanks in no small part to the chip shortage affecting so many automakers. Right now, however, you can shop Camry and Accord models on our Kelly Honda website, but first, to the comparison between the Honda Accord and Toyota Camry.
Now before you criticize us for being biased towards a Honda model just because we're a Massachusetts Honda dealer, here are the facts:
Six top online automotive news and comparison websites all favor the Accord over Camry when it comes down to it. Some will tell you it's a matter of preference, while others say both are great models and choose what matters to you most. So let's talk quickly about key areas that matter to most Accord and Camry buyers – style, space, and drivability.
When it comes to styling, inside and out, the Accord took the category from many of these auto journalists. They all enjoyed the fact that the 2021 Accord's interior was so well appointed. If we summed up these writers thoughts into one statement, it would be that the 2021 Toyota Camry had an okay interior, while the Accord has a very nice interior that rivals luxury vehicles at higher trim levels.
Honda has always been a leading automaker when it comes to space inside all of their models, and the Accord bests the Camry here too with 3 more cubic feet (cu. ft.) of passenger volume than the Camry and almost two and a half inches more leg room than its counterpart. Trunk space is also important for sedan buyers and the Accord wins there as well (+1.6 cu. ft.). Honda does such a great job inside all of their models with roominess and the 2021 Accord is more spacious overall than the 2021 Camry inside the cabin and trunk.
And finally, the dynamics of driving is quite important to many sedan leasers and buyers. Why? Because if you wanted something that held all your family, friends, groceries, animals, equipment, and more, then you'd probably be considering an SUV, truck, or minivan (new CR-V, HR-V, or Ridgeline anyone?). Sedan shoppers enjoy driving their car just about anywhere for the pure performance it provides, and so, that's why it's important! Overall, the aforementioned six automotive news sites were pretty split. Some liked that the Camry offered a sporty TRD model that made over 300 HP, while many preferred the refined ride and enjoyable driving the Accord offered. You do get a little bit more horsepower with the Camry lineup, but if torque is your thing, the non-Hybrid Accord offers more of it compared to non-Hybrid Camry models.
Conclusion
Much like the rivalry that exists in baseball between the New York Yankees and the Boston Red Sox, the Toyota Camry and Honda Accord both have great teams worthy of winning year in, year out. And both teams are among the top teams in their sport. But in 2021, there is a clear winner, and it's not the Yankees – or Toyota Camry.